IT'S TIME FOR
DeFi SOLUTIONS 2.0
THE
IDO LAUNCHPAD
ON LAYER 2
Get notified about the next IDO crowdsale or major news
Fair Pool Participation via 6-Dimensional ScaleSCORE
Next Level Blockchain Cybersecurity Features
Unique Autopilot
Participation Option (V2)
Multi-Chain
Integration (V2)
No competitor combines the latest DeFi functionality with the most advanced ETH layer 2 scaling technology, institutional-grade security, decentralized insurance of funds, and state-of-the-art user interface and experience design.
Users will no longer need to worry about high gas prices or long processing times. Investing in new pools will be effortless. With our V2 platform, new and unique features will be implemented such as a fully customizable autopilot pool participation functionality, innovative swap service offerings and an instant mass-airdrop tool.
Our proprietary ScaleSCORE dignifies the loyalty of SCA token holders who then benefit from guaranteed pool participation, advanced autopilot feature, and potential airdrops. SCA token holders will also build the governance organization in the ScaleDAO.
Scaleswap's economy is 100% token-centric and will support and incentivize liquidity provision extraordinarily. Fees will need to be paid in our native SCA token, of which the vast majority will be immediately burned.
The SCA token utility builds the central element of our ecosystem. It is the primary factor to obtain a high ScaleSCORE, where features are unlocked at certain token thresholds. We are fully committed to utilizing our token to incentivize vital growth within our community.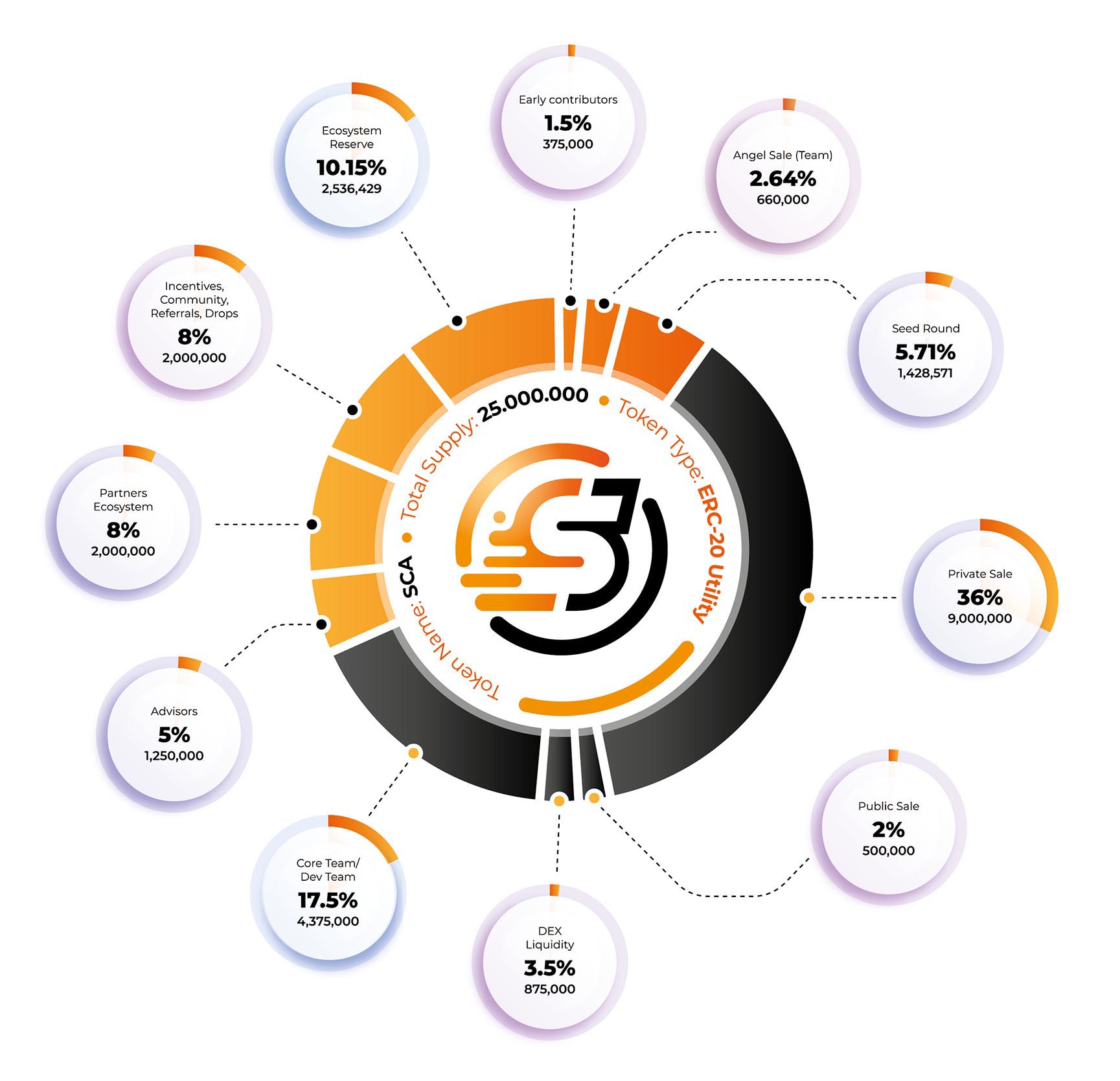 Initial Market Cap | 418,250 USD
Fully Diluted Market Cap | 8,750,000 USD
| Vesting periods | At Listing (locked) | Unlocking |
| --- | --- | --- |
| Partner Ecosystem | 100% | 24m (monthly releases) |
| Incentives, Community, Referrals, Drops | 84% | 24m (monthly releases) |
| Core Team/ Dev Team | 100% | 24m (monthly releases) |
| Advisors | 100% | 24m (monthly releases) |
| Ecosystem Reserve | 100% | 48m (monthly releases) |
| Early Contributors | 0% | n/a |
| Angel Sale (Team) | 100% | 6m (monthly releases) |
| Seed Round | 100% | 6m (monthly releases) |
| Private Sale | 100% | 6m (monthly releases) |
| Public Sale | 0% | n/a |
| DEX Liquidity | 0% | n/a |
Seed & Private Round
MVP on ETH Testnet
Start Whitelisting
Public Testing (incentivized)
Launch ETH L2 Mainnet
Scaleswap IDOand Exchange Listing(s)
Multi-Chain Wave I
Launch V2 Testnet
ScalePOOLS (enhanced)
ScaleSWAP
ScaleDROP
Public Testing (incentivized)
Launch V2 Beta
Further CEX Listings
Integration of branded and integrated HW Wallet
Full Handover to ScaleDAO
Full Multi-Chain Integration
Polkadot
CasperLabs
Binance Chain
Scaleswap Platform Evolution V3
#1 Platform for Launches
Seed & Private Round
MVP on ETH Testnet
Start Whitelisting
Public Testing (incentivized)
Launch ETH L2 Mainnet
Scaleswap IDOand Exchange Listing(s)
Multi-Chain Wave I
Launch V2 Testnet
ScalePOOL (enhanced)
ScaleSWAP
ScaleDROP
ScaleLIQUI
Public Testing (incentivized)
Launch Scaleswap Platform V2
Launch on Tier-1 CEX
Full Handover to ScaleDAO
Full Multi-Chain Integration
Solana (t.b.c.)
CasperLabs (t.b.c.)
Binance Chain (t.b.c.)
Avalanche (t.b.c.)
Scaleswap Platform Evolution V3
#1 IDO Launchpad
GET ACCESS TO
OUR PRESS KIT