Overview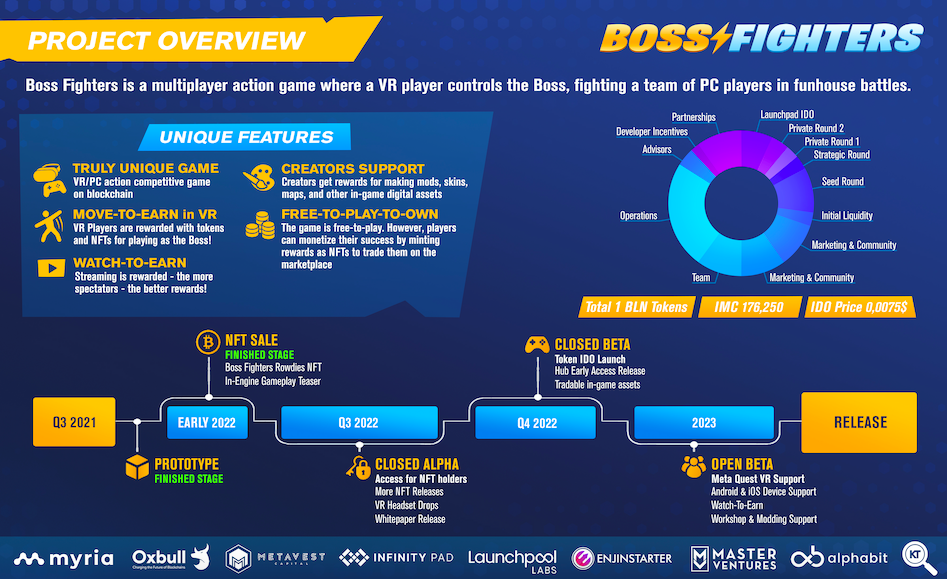 Features
UNIQUE GAME Literally the world's 1st VR/PC action competitive game with digital assets! Embark to online multiplayer, or play with friends on the couch in party mode. A unique game that has never been seen in WB3.0 and NFT space before
MOVE-TO-EARN in VR Physics-based VR player's gameplay, the sense of scale and power while controlling the giant Boss implies active movement! In BOSS FIGHTERS - VR Players are handsomely rewarded for playing as the Boss!
WATCH-TO-EARN There is no show without spectators! BOSS FIGHTERS is designed for player-viewer interactions. Streaming is rewarded - the more spectators - the better rewards for players! Spectators also get rewards for supporting players and can even interact with the battle arena through Twitch API.
FEE-TO-PLAY-TO-OWN The game is free-to-play. However, players can monetize their success by minting rewards as NFTs to trade them on the marketplace, use tokens to access advanced game modes, and compete for large token prize pools in tournaments
CREATORS SUPPORT BOSS FIGHTERS supports user-generated content. Get rewarded for streaming, or making mods, skins, maps, and other in-game digital assets to trade on the marketplace.
Highligths
Asymmetric Multiplayer Tap into the web2 players' community and VR enthusiast market!
Destructible & Interactive Unleash creative violence in wacky boss fights
Progression & Ownership Free-to-play economy with asset ownership
Team Play & E-Sports Community and Sponsored Tournaments
Easy Access Steam, EGS, Mobile platforms, and Meta Quest support!
Token Metrics
Seed Round Price: $0.003 | ROUND OPEN
Strategic Round Price: $0.004 | 4m Valuation
Private Round #1 Price: $0.005 | 5m Valuation
Private Round #2 Price: $0.00625 | 6.25m Valuation
IDO Round Price: $0.0075 | 7.5m Valuation
Token Utility